Grayson Space Navy
From TRMN
The
Grayson Space Navy
(
abbrev
:
GSN
) is one of the alliance navies and a branch option for members. Commanded by
HADM
Angela Sanders,
MC
,
CBM
, the GSN is one of the larger branches of TRMN. The
Grayson Home Fleet
is also known in TRMN as
Fourth Fleet
however there are Grayson ships serving in various fleets around the world, and Grayson personnel on other navies ships.
History
The Grayson Space Navy was founded as part of the initial development of TRMN, due to the expectation that correspondence chapters would be needed, and would require different leadership to help them succeed. Kirylyn Dreamer became first High Admiral and helped setup the first chapters based from Texas and Florida, and worked with Martyn Griffths to start the Great Britain chapter, the GNS Albion. As more chapters were created, the needs of the GSN expanded. Their love of Monty Python quotes spread over into every post on the main Facebook group, so they had to relocate / flee / ordered to leave and developed their own identity.
Unfortunately, Kiry developed a chronic health condition and had to step down. She was awarded the first steadholder title in thanks for her four years of service, although this senior status was later lost. Nicholas Hurst took over as High Admiral in 2012 and worked to find ways to increase participation within the correspondence chapters. He developed a computer processed baseball league, where he had ships playing against each other, and encouraged the use of online games as qualifiers for marksmanship awards. Unfortunately, real life intervened for him as well, and he stepped down from the head spot, although he maintained the baseball league. Eventually, Hurst built the first Grayson meeting chapters in America.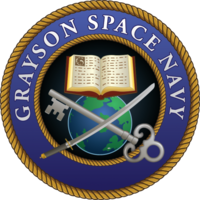 From the beginning of 2014, Tom Saidak was the High Admiral. After three years of service, he was also awarded the title of steadholder. He continued to expand the fleet and tend to the needs of the GSN. He also expanded the number of meeting chapters that existed, before that distinction was removed by TRMN leadership. As all chapters are now the same, whether meeting or not that distinction ceased to matter. He also appointed the first independent commander of 4th Fleet, up until this point Fourth Fleet CO had also been the High Admiral as it was assumed it was made up of all Grayson Ships. As Grayson ships started to be assigned to other fleets the position changed and so Fourth Fleet was given it's own area, the UK and Eire. As a grandfather clause ships that were previously assigned to Fourth fleet could continue to do so.
In January 2018, HADM Saidak stepped down, and was replaced by the incumbent Chief of Operations, David Melsome. David has worked hard to increase participation of the GSN in every aspect of tRMN and has set up the Comptrollers office to help raise funds for Grayson causes.
Unfortunately due to health issues HADM Melsome had to step down and was replaced by HADM Angela Sanders in May of 2018.
Awards
The GSN awards decorations and medals based on the canon Grayson awards. See: Table of GSN Awards
The Grayson Space Navy also has an honor society that inducts members each year for services to the GSN, this society is called The Protector's Own after the canon fleet commanded by Honor Harrington
List of High Admirals
| No. | Name | Assumed | Relieved |
| --- | --- | --- | --- |
| 1 | Kirylyn Dreamer, Steadholder Blackbird | 01 February 2008 | 09 January 2012.[1] |
| 2 | Nicholas Macon Hurst | 09 January 2012 | 26 November 2013 [2] |
| 3 | Lord Sir Thomas Saidak, KE, DSO, Steadholder Henessey | 26 November 2013 [2] | 13 January 2018 [3] |
| 4 | Lord David Melsome, MC, OR, CGM, Steadholder Maelstromm | 13 January 2018 [3] | 28 May 2018 |
| 5 | Angela Sanders, MC, CBM | 28 May 2018 | Incumbent |
High Admiral Staff
Chief of Operations: Vacant
Staff Communications Officer: Vacant
Protector's Orders
References