Clear Lake
From TRMN
The Barony of Clear Lake is a peerage title awarded by The Royal Manticoran Navy: The Official Honor Harrington Fan Association, Inc..
Clear Lake was created as a title on 27 May 2018[1] when then-CDRE Lady Cindy Jeffers was created Baroness Clear Lake at MantiCon in Bloomington, MN. 2018, where he received the accolade from Sharon Weber.
Barony of Clear Lake
Coat of arms of the Barony of Clear Lake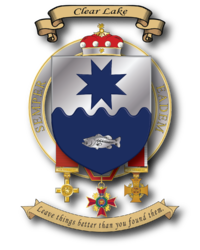 Escutcheon
Per fess wavy argent and azure, an Auseklis cross and a trout all counterchanged.
Coronet
The escutcheon is ensigned with the coronet of a Manticoran Baroness.
Motto
Leave things better than you found them
Orders and decorations
Escutcheon encircled by the riband of the Order of Queen Elizabeth. Pendant from the achievement are representations of the Order of King Roger, the Saganami Cross, and the Conspicuous Gallantry Medal.
Symbolism
The Auseklis cross represents a particular achievement of the Baroness, as well as the location of her birth. The trout represents a favorite pastime on the Barony lands, as well as a location the Baroness particularly enjoys visiting.
Geographical description of territory
Located on Sphinx, Clear Lake is known as a camping and fishing destination. If you want to "rough it" we have some small islands...free of hexapumas... available. There is also glamping, cabin rental, and hotel accommodations in various areas of the estate. The Barony is located in Long Beach County, which is part of the Duchy of Dragon Ridge.
The Baroness is the honorary colonel of the Clear Lake Dragoons, a Home Guard infantry regiment of the RMA drawing personnel from throughout the barony.
References